Tennis Court Repair and Resurfacing
Tennis is one of our favorite outdoor pastimes, but what was once a fun way to get some exercise can quickly turn into a game of frustration when you have to contend with cracks, bumps, and uneven surfaces. As any tennis player can tell you, a decent game is impossible when the tennis court is uneven or damaged – even slightly so. Especially in a fast-paced game like tennis, players could even risk injury on courts that aren't well-kept and uniform. If you want your tennis court to be presentable and enjoyable, you need to ensure that it's totally flat, smooth, and vibrantly colored.
Where faded, worn tennis courts can be an eyesore that locals would rather do without, resurfacing your tennis courts will breathe new life into your community or organization. Our tennis court resurfacing package can add a splash of color and liveliness, one that inspires those around to get out and be active. A visibly resurfaced, or expertly repaired tennis court will help your property look well-kept and upscale, sending a clear message that your community is worth investing time or money in.
Get Your Tennis Court Back In Shape
Let us at Coatings, Inc. get your tennis court back to its true potential. We offer a comprehensive service package specially designed for tennis court repair and maintenance to keep your court in an enjoyable, pride-inspiring state. We do it all, from tennis court crack sealing to resurfacing, leveling, even repainting. Our technicians will assess the state of your court, then recommend a course of action to bring your tennis court repaired and back into action. When it comes to tennis courts we've seen it all, and we guarantee that we have the tools and expertise you need for the job.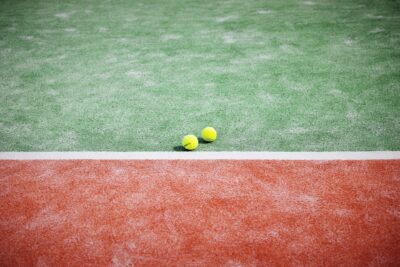 With our decades of experience in the tennis court repairing industry, there's no company more qualified in the Denver Metro area for tennis court repair. As the area's most qualified and most trusted, you can rest assured that we'll get your tennis court back in shape faster and more efficiently than any other company around. For more than 50 years, we've been dedicated to the Denver tennis community, and we intend to keep that dedication going for many more years to come.
Pickleball Courts
With the popularity of pickleball in Colorado growing daily, you might have asked yourself how much does it cost to build a pickleball court in my backyard? Since the surface of a pickleball court is identical to a tennis court, a pickleball court is 1/4 the size of a tennis court. The answer is that it might be more affordable than you think! Of course, there are many factors that can cause the total price to go up or down like lighting, fencing, local regulations, drainage requirements, as well as surface options. At Coatings inc. our pricing is always clear, fair, and straightforward and we can work with you to build the perfect pickleball court while staying within your budget.
Our team can help you design, build and install the pickleball court of your dreams, if you already have a pickleball court we can resurface or repair pickleball courts as well. So, whatever your needs are, Coatings inc. has the right pickleball court construction specialists for the job.
Court Resurfacing
We have dozens of colors that we can apply while resurfacing your tennis court or pickleball court, making for hundreds of possible color combinations – choose a pair of colors that perfectly compliments your building, community or organization.
Coatings, Inc. also provides a number of different resurfacing options. We can install synthetic courts as an alternative to the traditional asphalt court if your foundation, surroundings or other circumstances call for it. We can also install cushioned tennis courts – these may have a layer of grass-like felt covering a softer layer beneath, a layer that's engineered to soften your step and lessen the impact of tennis playing on your joints. These innovative courts will set your court apart from all the rest, and make your tennis court a destination, not just another amenity.
No matter your tennis court needs – repairs, repaints, resurfacing – trust the experts here at Coatings, Inc. to bring your tennis court back to life. We value our customers more than we value anything, let us prove that to you by providing a new or renovated tennis court, quickly, efficiently, and better than the rest.
To schedule an appointment with one of our Denver tennis court repair specialists, contact our office at (303) 423-4303!