Sealcoating Your Asphalt
Over time, pavement can become much more fragile than it might seem. Despite asphalt's toughness, years of exposure to the elements can make it brittle and prone to erosion – erosion that can be quite expensive to fix.
Asphalt is, at its core, a conglomerate of gravel and small stones bound with crude oil – this oil is what makes asphalt "pourable," and lets asphalt keep its shape after it drys. Crude oil is the glue that holds asphalt together, but unfortunately, the bonds created by this oil aren't nearly as strong as the aggregate rock it holds together. The elements – wind, water, debris, and UV radiation from the sun – all attack these bonds and make them weaker over time. From the moment your asphalt hardens, it begins to weaken and soften at a molecular level. While this may sound daunting, the good news is that we at Coatings, Inc. have the solution – asphalt sealcoating.
A Shielding Layer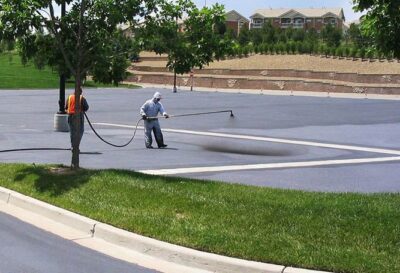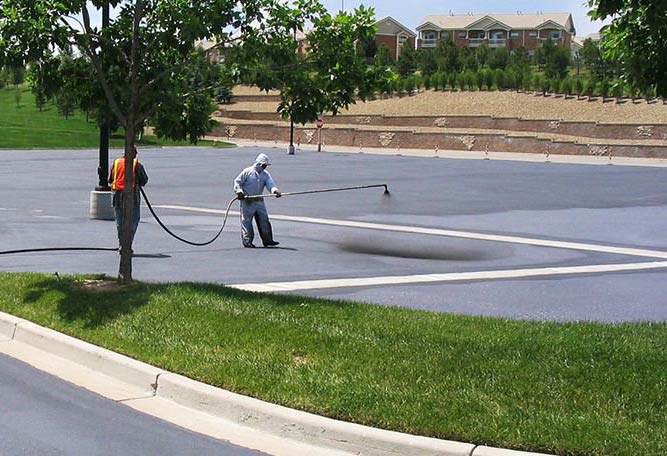 Sealcoating is a preventative measure that acts to protect your otherwise exposed asphalt.
It forms a layer around your asphalt that shields those oil-based bonds from the environment, keeping wind, water, and notably, UV radiation away from the glue at your asphalt's core. Safely sealed-off from the outside world, your asphalt will remain strong – similarly strong to how it was just after the sealcoat was applied. Longer-living asphalt means many more years until your asphalt needs maintenance, and more years still until your asphalt may need replacing. Once it sets, sealcoating can also improve the grip that tires have upon the surface of the asphalt itself. In short, asphalt sealcoating is a solid investment that will keep your surfaces healthy and your walks or drives smooth.
But beyond performance, sealcoating can serve to improve the looks of your asphalt too. Where untreated asphalt may have an uneven color or imperfections that take away from the aesthetics of the pavement, sealcoating doubly acts as a way to mask and boost the looks of your asphalt. Sealcoated asphalt has a beautiful matte finish that any home or business can appreciate – an unmistakable look.
Do I Need Sealcoating?
While sealcoating will drastically improve any asphalt it's applied to, there are certain types of surface that sealcoating will make an especially good investment for. Sealcoating is ideal for surfaces that demand a smooth, high-quality, premium-feeling finish; here are a few examples of surfaces that would benefit from that look and feel:
Low-volume or residential roads, especially HOA-managed roads, where premium feel is widely preferred
Airport taxiways, where a reliable and smooth surface is extremely important
Commercial properties of all sizes, where visitors expect an upscale driving feel and experience
Why Coatings, Inc. For Your Sealcoating Job?
To properly prolong the life of your pavement, you need the help of a trusted pavement repair expert. The specialists at Coatings, Inc. are Denver's choice for pavement repair for a reason. Our technicians have the expertise and experience you need to properly protect your pavement, and ensure it stays strong and secure. We can even set up regular maintenance visits, so that your sealcoating layer stays in top shape, and to ensure that your asphalt isn't having any other issues. In any event, asphalt needs long-term care in order remain strong – let us be the partner your asphalt needs.
At Coatings, Inc. we even stay up-to-date on the latest and greatest in the world of sealcoating and asphalt health. We don't just stick with some decades-old method when we apply sealcoating, we're constantly evolving how we apply sealcoating. Using the most efficient tools, the latest and most time-effective methods, and of course using the best quality sealcoats available, we can provide a quality of sealcoating that other asphalt companies can't. In addition to our guarantee to provide the best quality job possible, we also tool each job to your specific needs and wants – meaning your sealcoating job is tailor-made for your surface, and your budget.
We're also very flexible in our sealcoating capabilities. No matter if you need a small driveway sealcoated, or an entire corporate parking lot, we'll scale our operations to match your job. You'll also have your choice of sealcoat, from budget-friendly and economical to best-in-class and ultra-premium. But regardless of the size of your job, we at Coatings, Inc. will treat your job like we'd treat our own – with high-quality materials and the best service available in the Denver Metro area.
To protect your property, reach out to our office today, call (303) 423-4303 for a free estimate!