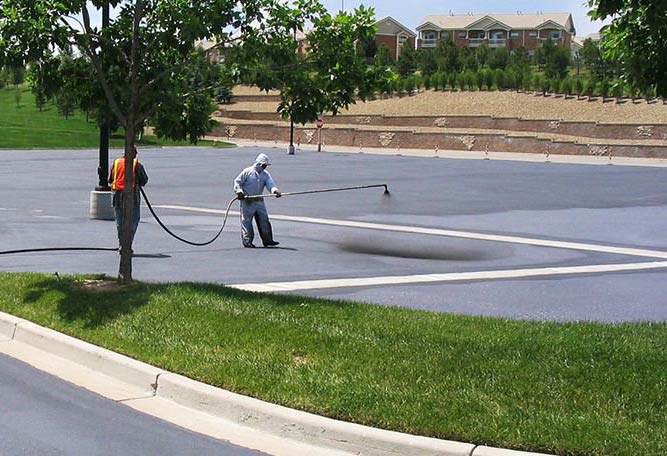 Any asphalt contractor can claim to have the best value or best prices on asphalt coatings, but only one can prove it. We here at Coatings, Inc. have the widest capabilities, best economy of scale, and longest track record of any other Denver area asphalt contractor. We'll briefly go over why and how our prices are as low as they are:
The Biggest & Best Equipment
Coatings, Inc. is proud to have the largest fleet of asphalt-laying equipment anywhere in Denver. Where other contractors may have smaller vehicles and equipment, which necessitates many trips back and forth, among other things, we at Coatings, Inc. have the largest asphalt-carrying trucks and the widest array of equipment.
Larger trucks, for one, mean we can cut out the trips from the asphalt production facility and back. We'll have all of your asphalt coating on just one load, meaning we can get large jobs done in a fraction of the time other asphalt contractors can. Instead of multiple days, imagine your job getting done in just one.
And, of course, less time to completion means fewer man hours billed and a much lower final bill for you.
Trusted By Denver's Biggest Asphalt Companies
When it comes to Denver asphalt coatings, you may think signing on with a bigger company will mean better service and lower prices – after all, they've got to be as big as they are for a reason, right?
Not quite. When it comes to larger asphalt coating jobs, Denver's largest asphalt firms subcontract those jobs to other firms — and those firms' most popular subcontractor is us, Coatings, Inc. If you've got a big asphalt coating job, you can cut out the middle man and all the associated fees by signing directly with us. This will save you both money, and headache.
Decades of Experience & Service
At Coatings, Inc., our 40+ years of asphalt coating experience has allowed us to get our industry down to a science. We know exactly what to do to cut expenses for our customers, and long track record of satisfied clients means dozens across the Denver metro area can attest to our great service and unbeatable prices.